In 2006, we created the fresh soup market in Italy and we are still the leader today, both with our DimmidiSì brand and as a producer.
We offer a wide range of fresh ready dishes that are extremely convenient: soups, cold dishes and sides.
They are all extremely fresh products, that have not been pasteurised and are prepared strictly without preservatives and only make use of minimum technological input. Our aim is to create delicious, natural recipes that taste like they are home-made.
We produce both organic and conventional, products with our DimmidiSì brand and as a Co-packer.
The types of packaging available for these products are heat-sealed bowls and cups in various sizes. All our packaging is recyclable.
Swipe left and right
to discover our range:
Find out more about
our production process:
5
Packaging and palletisation
6
Movement of goods and transport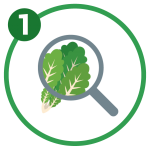 Ingredients
: to prepare our ready meals,
fresh vegetables are selected from our fresh-cut processing department.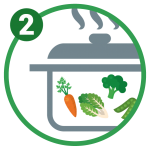 Cooking area
:
a cooking process that is very similar to how it would be made at home
, yet on an industrial scale, prepared in huge "pots", which make products with superior sensory qualities, with
the flavour, scent and consistency
of home-made dishes.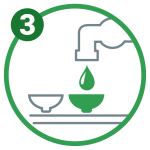 Bowl filling: the bowls, which are made from recyclable materials, are immediately filled when hot and then heat-sealed in an ultra-clean department that is extremely sanitary with an elevated hygiene level, under strict control.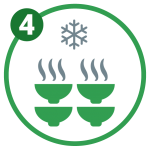 Cooling
: straight after, the
packaged product is quickly cooled
to preserve the
sensory qualities
of the soups and extend their shelf life.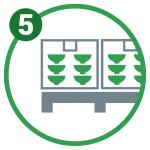 Packaging and palletisation
: in a
separate area
from the plant, the heat-sealed bowls are covered in cardboard and placed on pallets.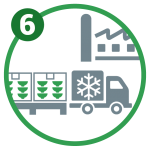 Transport
: a little after the packaging stage, all products are prepared for transport in the
large refrigerated logistics area complete with several loading bays
, ready to leave in
refrigerated vehicles
to the distribution platforms or directly to stores.